1. How long have you been volunteering at "A Drop in the Ocean"?
My first trip was to Lesvos in December 2015. After that first trip, I knew I wanted to continue volunteering.
2. What made you decide to volunteer there?
It all started while working in UECC. I was sailing with our UECC vessel "Viking Chance" in September 2015 for one week from Spain to Livorno when the news about all the refugees arriving from Turkey to Greece emerged.
While watching the sea from the weather deck I found myself so close to the situation and asked my manager (Mr. Niclas Giving) if I could stay onboard to Piraeus and get one week extra to go to Lesvos. Back then, that was a bit optimistic but he suggested the alternative of taking that week in December instead. I had then followed up with the plan, got the approval and as the saying goes - "the rest is history".
3. Can you describe the volunteer work you have done with "A Drop in the Ocean"?
I have been through the different works in "A Drop in the Ocean" and experienced the development of the organization.
Athens: Camp Skaramangas (several times)
Northern Greece: Once including Idomeni, which is next to the Macedonian border
Lesvos: Twice
Piraeus Several times

At Lesvos, we assisted broken and old fishing boats that were overloaded with refugees. They were arriving in stormy weather regardless of night or day. All they had with them were plastic bags with their belongings.
There were no expressions on their faces when they found out that the outcome was not what they had been told. They had been told by smugglers that once they reached Europe, there will be food, hotel and new clothes waiting for them. But that was not the case. We had to inform them that they had to walk 10 km to register themselves and hopefully find a place to sleep. We were not allowed to drive them to the destination as we could be arrested for smuggling.

On the 20th of March 2016, EU and Greece agreed to close the borders and all refugees are required to register in Greece before applying for other countries or be sent back to Turkey where EU would take one refugee for each one that returned (this solution never worked). This resulted in big unofficial "camps" being set up as Greece was in no position to make humane facilities to 24 000 refugees.

In Idomeni and Piraeus, the refugees were given tents at the campsite but with no showers, food or other facilities. They were depending on NGOs (non-governmental organizations) to get water, food and hygiene products. Try to imagine living in the condition where four or more people share a small camping tent for months. Imagine all the humidity, dirt and sodden in the tents!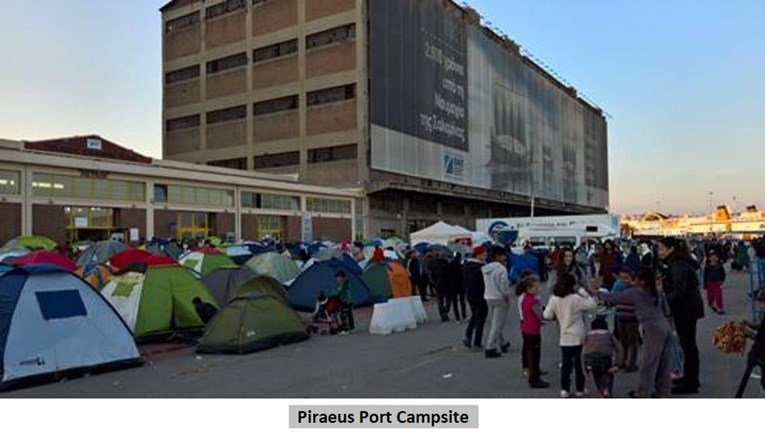 The campsite in Idomeni was on a field so when it rained, the ground became muddy. Which means the ground in the tents would get muddy too. Try to imagine sleeping on that. In Piraeus, the campsite was at the port of Piraeus. As the campsite was not an area with shadows or wind, it can get extremely hot on the pavement, and the temperature was worse in the tents. As the tents were on the compound where the ferries and cruises berthed in Piraeus, it was important for the government to move them so the tourists did not see or walk through the tents.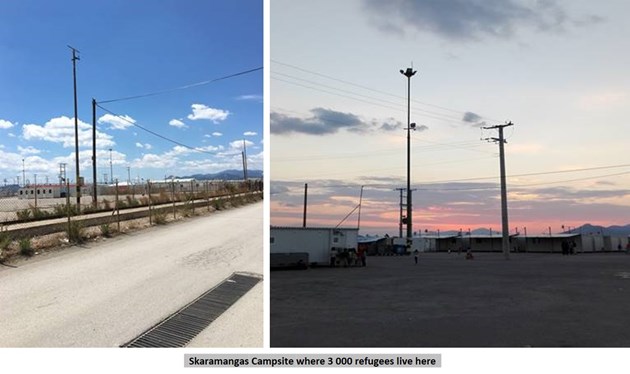 Therefore, they moved most of the refugees to another shipping area close to Athens named Skaramangas. This old port received mainly containers and tank vessels. At this campsite, they provided small containers with 2 rooms, 1 bathroom and air-condition (+/- 10 persons per container). Even though this area is far from the city they were all happy for the house and its facilities.
Looking back at the different stages:
• Lesvos was all about surviving
• Piraeus and Idomeni were about providing food, clothes and hygiene products
• Skaramangas was about trying to give them a "normal" life with activities, English courses, and some dignity while they wait for their "verdict".
As a side note, all photos are from good weather conditions, as I could then use my phone without risking water/damages. Don't let the sun fool you – Lesvos during wintertime is not recommended (I have never been so cold in my whole life).

4. What do you think organizations (such as UECC) can help to contribute (besides monetary)?
Make it easy and encourage employees to volunteer!
I want to thank UECC for allowing me to travel and combine work for UECC and "A Drop in the Ocean" at the same time as I could work from the office of our agent in Piraeus during the day time and go straight down to the port, assisting in the afternoon and evenings. Many of the other volunteers I met were in-between jobs or students. They were really impressed when I told them how UECC supported my volunteering work.
Knowing that I have UECC's support meant a lot to me and it was also positive that colleagues were asking questions about A Drop in the Ocean's contribution. They understood that this might have a big impact personally and give their own direct contribution by supporting our online shop and/or donating their old laptops.
It is all about the small drops – if every person makes a small contribution then we can do so much more as a whole community!

5. What advice would you give to others who want to volunteer?
It sure can be scary but it is SO worth it!
I remembered my first shift at Lesvos - Sitting at the beach with my mother in the dark just waiting for the boats to come in. I said to myself, "What have I done…?" But after that first shift, I knew I've done the right thing.
I always get nervous before returning to Greece again for my next volunteer work, as I have no idea what to expect or who I will meet, as well as the routines. Everything changes all the time! Those who know me know that I am addicted to routines and systematical process. But, the experiences I encountered have allowed me to learn a lot about myself as well.
I made friends (other volunteers and refugees) and experiences for life. All the nice and good people I have met and the tough experiences have only added value to my life.
I really encouraged those who can to try volunteering once! Not just for the case but also for your own sake. Think of what you can give in terms of moral, emotional and tangible support. If you do not like it you can always go back home - you are not employed, "just" a volunteer ;)
Just remember - "It is all about the small drops".

We are proud to have such an admirable colleague here in UECC.
When you have such passionate people working in UECC, you can be sure that this passion will be applied professionally as well.
***
Curious to know more about "A Drop in the Ocean"?
Vilde has an information meeting on the 5th September 18:00 – 19:30. No obligations, this is just an informative meeting if someone wants to know more or have a cup of coffee ;)
Check it out via the Facebook link:
https://www.facebook.com/events/1554522287943332/?acontext=%7B%22ref%22%3A%224%22%2C%22feed_story_type%22%3A%22308%22%2C%22action_history%22%3A%22null%22%7D

How did "A Drop in The Ocean" come about?
"21st of August 2015 - Trude Jacobsen (mother of 5 from Norway with a normal job) heard on the radio while folding clothes at home that Norway would take 8 000 of the 130 000 refugees that arrived last 5 months. She packed a bag and went to Lesvos to try to assist somehow, without knowing anything else than what the news were telling us. While she was there she made a group on Facebook so people back home could see her updates. The group grew to 11 000 members within a few days and 'A Drop in the Ocean (DIH)' was created by friends of Trude who wanted to help with organizing while she was at Lesvos.
Since September 2015, DIH have sent more than 4 000 volunteer aid workers to Greece.
A Drop in the Ocean is present at the island of Chios, in Northern Greece and around Athens as of May 2017. They work directly inside the refugee camps regulated by the National Greek Military.
Their main work tasks are to distribute food, clothes and non-food items. They are also involved in planning and organizing different activities for children and adults in the camps.
They assist in teaching English as well as provide material and logistics for bilingual education. A Drop in the Ocean also cooperates with different organizations in all camps, such as UNHCR, Help Refugees, Save the Children, the international Red Cross and other partners.
https://www.drapenihavet.no/en/home/
***
For further information, please contact:
Ms. Evie Khoo, Sales & Marketing Coordinator, Oslo.
Telephone: +47 9191 2993 / E-mail: ekh@uecc.com