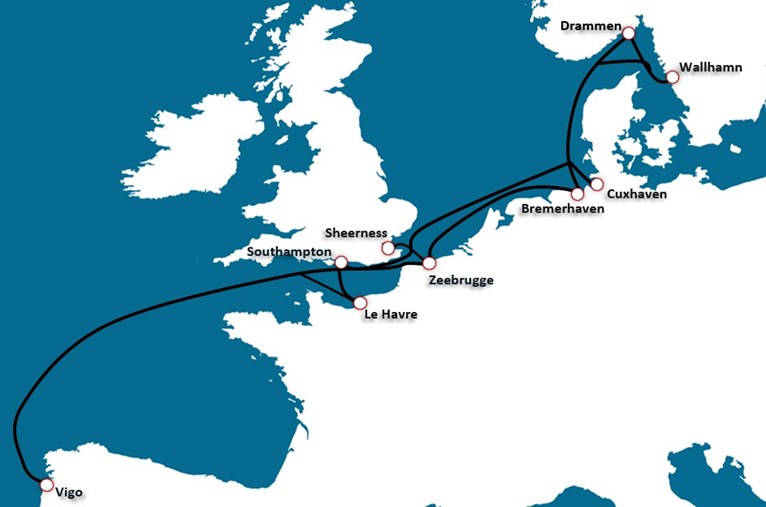 Long loop:  M/V Asian Breeze and M/V Baltic Breeze
Two Breeze vessels connecting Vigo to Drammen directly on a weekly basis.
VIGO → ZEEBRUGGE → BREMERHAVEN → DRAMMEN → WALLHAMN → CUXHAVEN → SOUTHAMPTON → LE HAVRE
Short loop: M/V Arabian Breeze
One Breeze vessel on an 8-days frequency.
VIGO → LE HAVRE → ZEEBRUGGE →SHEERNESS
List of UECC's commercial agents to assist your shipping requirements in the Atlantic service. 
| | | | | | |
| --- | --- | --- | --- | --- | --- |
| Bremerhaven and Cuxhaven (Germany) |   |   |   |   | Drammen (Norway) |
| Wallenius Wilhelmsen Logistics |   |   |   |   | Wilhelmsen Ships Service AS |
| |   |   |   |   | |
| Tel: +49 4211 629155 |   |   |   |   | Tel: +47 67 584000 |
|   |   |   |   |   |   |
| Southampton and Sheerness (England) |   |   |   |   | Vigo (Spain) and Le Havre (France) |
| Premiership Ltd |   |   |   |   | UECC HIGH & HEAVY Madrid |
| |   |   |   |   | |
| Tel: +44 1633 244 880 |   |   |   |   | Tel: +34 91 5758 355 |
|   |   |   |   |   |   |
| Wallhamn (Sweden) |   |   |   |   | Zeebrugge (Belgium) |
| STL - Sweden Transport & Logistics Shipping AB |   |   |   |   | ICO – International Car Operators N.V |
| |   |   |   |   | |
| Tel: +46 31 107 300 |   |   |   |   | Tel: +32 50 542 460 (Nancy Monbaliu) |
|   |   |   |   |   | Tel: +32 50 542 447 (Stefanie Lonneville) |
For further information, please contact:
Ms. Evie Khoo, Sales & Marketing Coordinator, Oslo.
Telephone: +47 9191 2993 / E-mail: ekh@uecc.com
Download Press Release here