The launching of TBN AUTO ECO was a huge success with the construction completed according to the project plan and leading to a significant milestone in the new building project.
"It is such a magnificent moment seeing TBN AUTO ECO afloat. We have all been looking forward to this day to see her on the water for the first time. I am extremely proud and grateful for the dedication and hard work put in by the entire team to make this happen, especially on schedule," said Mr. Glenn Edvardsen, CEO of UECC.
Mr. Edvardsen ended his speech with the following, "It is a privilege to be present here at NACKS today to witness the launching of one of the finest and most technically advanced PCTC vessel ever build. Even though there is some mist today, the weather is still perfect for the launch, and not even the mist can affect her impressive structure on the horizon."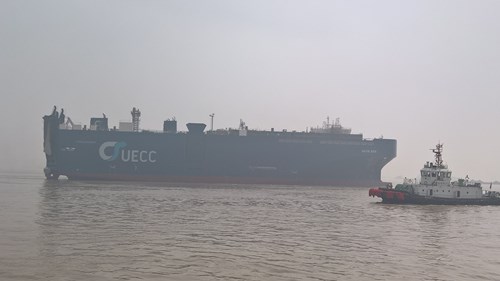 The next milestones for TBN AUTO ECO are the Sea Trial and Gas Trial, where we will be witnessing her engines running on LNG fuel.
TBN AUTO ECO is scheduled to be delivered to UECC on 28 September 2016 in Nantong, China.
For more information, please contact:
Ms. Evie Khoo, Sales & Marketing Coordinator, Oslo.
Telephone: +47 9191 2993 / E-mail: ekh@uecc.com