UECC is the first to have not one, but two dual fuel LNG PCTCs in the shipping industry.

They are the most technically advanced PCTCs ever built. They are also the largest ecologically sustainable PCTCs as well as the biggest ever 1A super Finnish/Swedish Ice Class PCTCs in the world.
Naturally, we want to showcase these to the world, and so we have produced a video specially on these magnificent LNG vessels. What better place to show the video other than at the Automotive Logistics Europe conference? UECC was the sponsor for the lunch at the Automotive Logistics Europe conference and taking this opportunity, we launched the video to more than 250 guests yesterday (7th June 2017). This is also the first time UECC sponsoring a conference.
Mr. Bjorn Svenningsen (Head of Sales and Marketing) gave an introductory speech on our LNG vessels.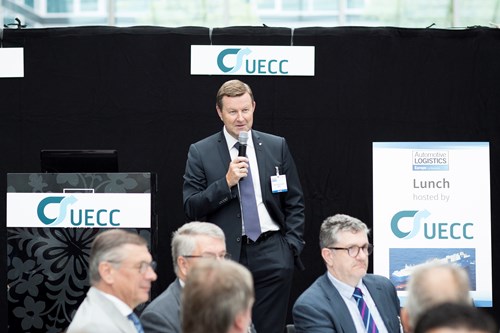 "The vessels are capable of operating with LNG fuel or heavy fuel oil as well as marine gas oil, providing greater flexibility and efficiency. Fitted with an LNG fuel propulsion system, they can complete a fourteen-day round voyage in the Baltic using solely LNG fuel, including main engine and auxiliary power generation.
With 10 decks and a carrying capacity of 4 000 cars (RT 43) and 6 000 m2 space for High & Heavy cargo with a maximum cargo weight of 160 MT, these vessels provide larger capacity, better operational flexibility, reduced fuel consumption and emissions, more efficient operations, and are enhancing the service to our customers."

We are extremely proud of these vessels and here is the video below. We hope you will enjoy it as much as we do.
***
For more information, please contact:
Bjørn Svenningsen, Director Sales & Marketing
bsv@uecc.com