1. What made you pick up cycling as a hobby, and then subsequently join a competitive team?
It started as a challenge from my brother. He started cycling and signed up for a race from Kristiansand to Hovden, which is 210 km. He tried to challenge me to an off-road cycling race the year before (Birkebeineren), but then I made up an excuse saying that road racing was more "my style". When he then challenged me for Kristiansand to Hovden, I didn't have any more excuses to use, so I bought a bike that winter and started training. Guess I could have "retired" after that race was done, but then it was too late as I was "hooked" on cycling.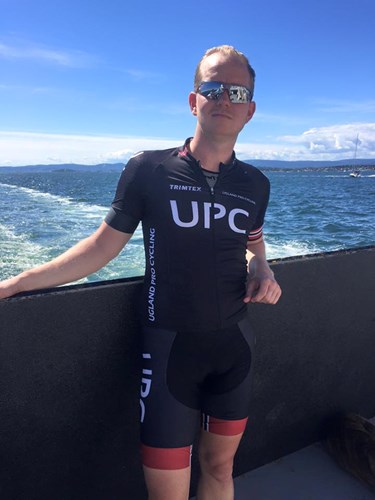 The first race was in May 2013. That same year, some of my friends established a cycling team - Ugland Pro Cycling (UPC), and I became a member of UPC from season 2014.
2. Tell us more about Ugland Pro Cycling, when was it set up, how many members are there? How often do you/team train, and what are the competitions that you /team have participated in so far? Where can we find more information about it?
UPC was founded by Knut Ugland in 2013. It started with only 5 guys from Grimstad, and I joined the team from the 2nd year. During the first couple of years, new friends with an interest in cycling joined. Year by year, we are now a stable group of 14 guys, almost 50/50 located in Grimstad and Oslo. With the help of chat application "Whatsapp", we are informing when we are going out for a ride, so most of the days during the week, you will have at least one cycling companion.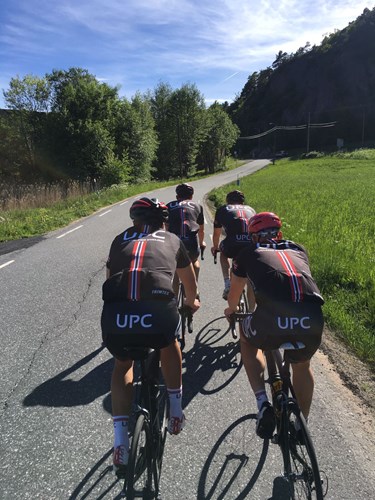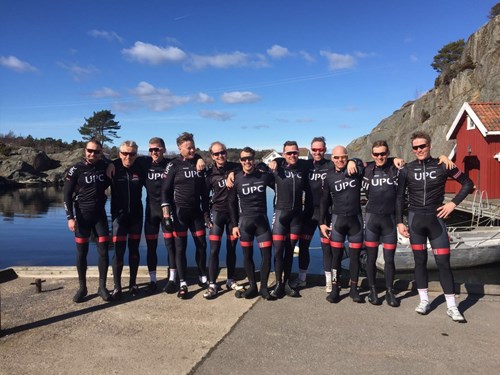 We also have a more official training camp in Grimstad before the season starts where everyone participates. During the winter when the ground is covered by snow in Norway, we would have a trip to Gran Canary to get a week (or two) of perfect cycling conditions.
Some of the riders in the team are more active on the races than others but we are represented in all the races taking place in the south of Norway. During the two last seasons, UPC has been riding very well, winning almost all races there is to win in the area. In addition, some of the guys have been participating other big Norwegian races like Kristiansand to Hovden and Lillehammer to Oslo, chasing a new course record.
3. So.. you need a top-notch heavy duty bicycle, I suppose? What's yours?
It should for sure not be heavy, the lighter the better. In the end, it's more about the rider than the bike, but it doesn't hurt having the best equipment. The added value you get on the bike get less and less the more expensive you go. You get a perfectly good bike from €3000 (maybe even less) and up to the really high-end bikes at value €10 000. Mine is on the lower side of this scale. 
4. I heard that Thor Hushovd, the former world champion is also a member! How often does he participate with the team?
Yes, we are very fortunate to have Thor as a member of the team. Though I never feel more like an amateur and lousy when we're talking about cycling races in Grimstad with huge enthusiasm, and he can pull off stories from Tour de France, world championships, Tour de Flanders etc. He lives in Monaco, so he is not joining on a daily basis. However, when he is home in Norway, he makes sure to cycle with the team, and also to join the social events such as Summer & Christmas party.
5. Name one of the toughest competition that you had taken part before.
It's up to the riders to decide how hard a race will be. The most competitive race I've been participating has probably been FOCC Bånn Gass. A race that starts and finished at Fevik, close to where I grew up. This race is very professional in the way it's organized, with motorcycles sending a live stream to the big screen in Fevik centrum. There are usually a lot of spectators and good atmosphere.
One of the toughest races in Europe is supposed to be Tour de Flanders, which used to start in Brugge but is now starting in Antwerp. This takes place during the Easter weekend. I'm considering changing skiing in the Norwegian mountains for cycling in Belgium next Easter, as there is a race for amateurs the day before the pros are riding. That kind of says how hooked I am into cycling! A Norwegian changing his "birthright" of skiing to cycling! 
6. Preparations before a competition, is it a lot of work?
The work (hours of training) had to be done well in advance of the race. When it's getting close to race-day, I prefer a couple of days with low intensity, just a 1.5-hour easy ride the day before to check that everything is working and to "wake up" the body. Eat some good high-carb dinner the night before and drink and eat well before the race to make sure to have a high energy level.
7. Any injuries so far?
Yes, a knee injury last in one of the first race last season! This injury ruined most of the season, and training was limited to very low-intensity cycling and a lot of boring excises at the gym given by the physiotherapist. After when I am almost recovered, I got a bit too excited during training camp at the Canary Islands and had to struggle with same injury beginning of this season as well. So guess you can say the two last seasons have at least been drastically reduced due to injuries. But as a Liverpool supporter, I'm used to thinking "…next season".
8. Would you like to see UECC sponsoring/supporting the team in any way?
If UECC would be interested in sponsoring cycling in any way, I would rather suggest contributing to those in UECC who would like to take a challenge together and participate in a race. I have already mentioned Tour de Flanders, which takes place not far away from Zeebrugge. This race would be an ambitious goal for us, but even greater when we achieve it together.
We are certainly proud to have a cycling enthusiast in UECC, and more so that one who wants to achieve a bigger cycling goal together with the company in the near future.
Keep a lookout on this. We will certainly update our status regarding any potential race!
---
For further information, please contact:
Ms. Evie Khoo, Sales & Marketing Coordinator, Oslo.
Telephone: +47 9191 2993 / E-mail: ekh@uecc.com