The units will be processed through the port of Zeebrugge and will be carried on board our new E-Class vessels (M/V AUTO ECO and M/V AUTO ENERGY) running on Liquefied Natural Gas (LNG), the cleanest and most environmentally friendly choice of fuel for marine transport.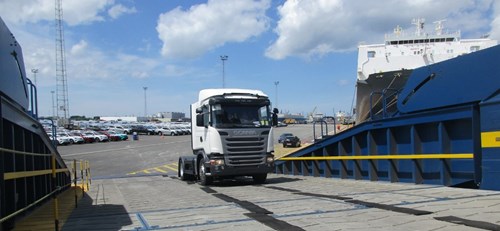 First loading of Scania truck on M/V AUTO ECO in Zeebrugge on 5th June 2017
M/V AUTO ENERGY and M/V AUTO ECO are the first ever built dual fuel LNG PCTCs and they are the largest PCTCs in the world, with Finnish/Swedish ice class 1A Super!


These vessels are deployed on UECC's Baltic Trade and the destination for the SCANIA truck heads and truck chassis will be the port of St. Petersburg in Russia.
Baltic Trade: M/V AUTO ECO and M/V AUTO ENERGY
Two E-class vessels on a weekly frequency
SOUTHAMPTON → ZEEBRUGGE → BREMERHAVEN → MALMO → HANKO → ST. PETERSBURG → (GDYNIA)* → SOUTHAMPTON
* every two weeks to Gdynia
This is a milestone for UECC and we are very honoured to be awarded such a contract by a company like SCANIA, focusing on sustainable transportation. It is also very exciting to add SCANIA to our customer portfolio and encouraging that our focus on Greener Sea Transport Solutions, along with our actions and persistence, have delivered this positive outcome.
-----
For further information, please contact:
Ms. Evie Khoo, Sales & Marketing Coordinator, Oslo.
Telephone: +47 9191 2993 / E-mail: ekh@uecc.com
Press Release can be downloaded here.